Arrow Tank & Engineering Company was formed in 1957 to manufacture storage containers mainly for the oil and gas industry.
Our core products included above and below ground storage tanks, water tanks and trucks, liquid fuel tank trucks, propane gas tank trucks, propane transports and large storage tanks.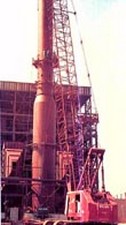 As the times changed, so did the business plan.
In 1971 Arrow Tank relocated the main fabrication plant to Cambridge, MN and added a remote site in Coon Rapids, MN. Today, all pressure vessel, bobtail cargo tank production, bobtail assembly, service and parts are located in Cambridge, MN.
The Coon Rapids site is home to our accounting offices, Propane sales and technical division.

Today we are major suppliers to refineries throughout the western hemisphere, Europe and Asia. We are often chosen to supply vessels for gas separation and we are building a wide variety of reactors and ASME rotary dryers.

To all of our customers, we thank you for the business.